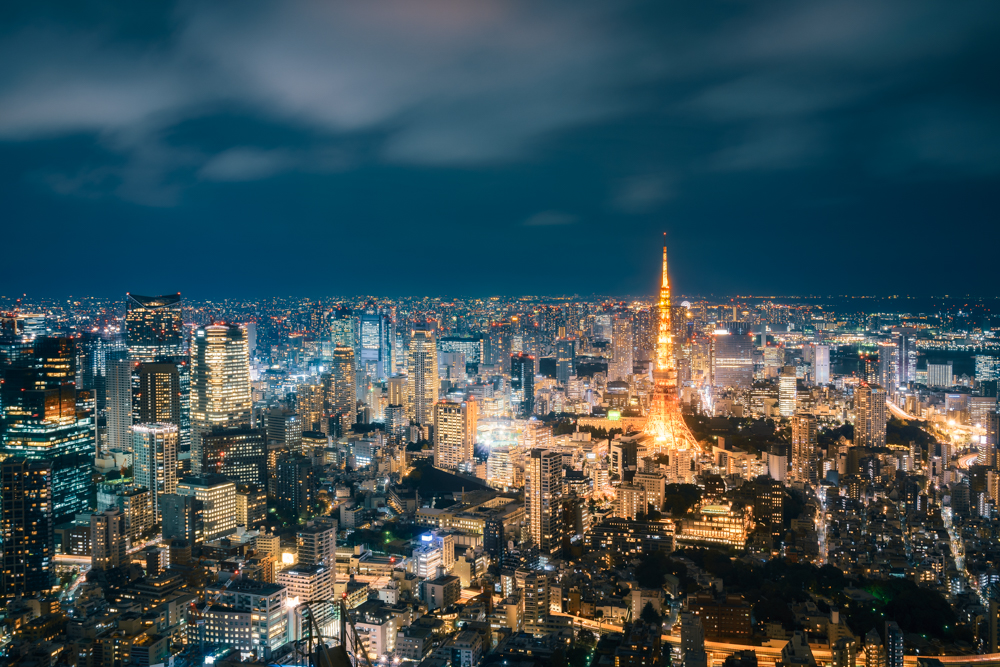 Tokyo Cityscapes at Night
Another highlight of our trip to Tokyo, Japan was our visit to Mori Tower in Roppongi Hills. In exploring the modern architecture of Tokyo it is impossible not to come across the 54-story mixed-use skyscraper Mori Tower, the centrepiece of the Roppongi Hills urban development. Completed in 2003, it is the sixth tallest building in Tokyo at 238 meters and it is known for the ingenious combination of dampers and braces that achieves the highest grade of earthquake performance engineering in Japan. We admired the reflective pool garden and the bright entry with the well-known bronze spider sculpture "Maman" by Louise Burgeois in front.
Beautiful Aerial Tokyo Cityscape at Night
But the main reason for our visit there, was because from the Skydeck at the top of the Mori Tower you can enjoy the best views of Tokyo, spreading from the Airport, Rainbow Bridge, Tokyo Tower and Skytree, Olympic Stadium and other Olympic facilities, Downtown Business Centre, Minato City and numerous traffic arteries below.
We could appreciate the bursting Tokyo Metropolis and its spectacular night lights from the top of the building! A word of warning to all the amateur photographers who would like to do the same: I don't know the reason, probably, due to safety concerns, but you will not be allowed to take the tripod with you, and you need to deposit any backpack you have in a locker before you are allowed on the Skydeck. You should have some coins with you for this purpose.
You can take your camera, but it will be necessary to improvise for your long exposure photos. It is not easy to find many locations to set your camera and find the composition you want or tilt it the way you want. Make sure you are prepared and keep yourself and your camera safe.
Don't miss the Art Museum while you are in the Mori building! And check out my previous post about Tokyo, Japan.
I loved to walk the streets in Japan at night! Stay tuned for my next post where I will take you to Shinjuku and Akihabara in Tokyo!
If you are more interested in the traditional Japanese architecture or the wonderful gardens we visited in Japan in autumn, please visit our Japan Galleries here.