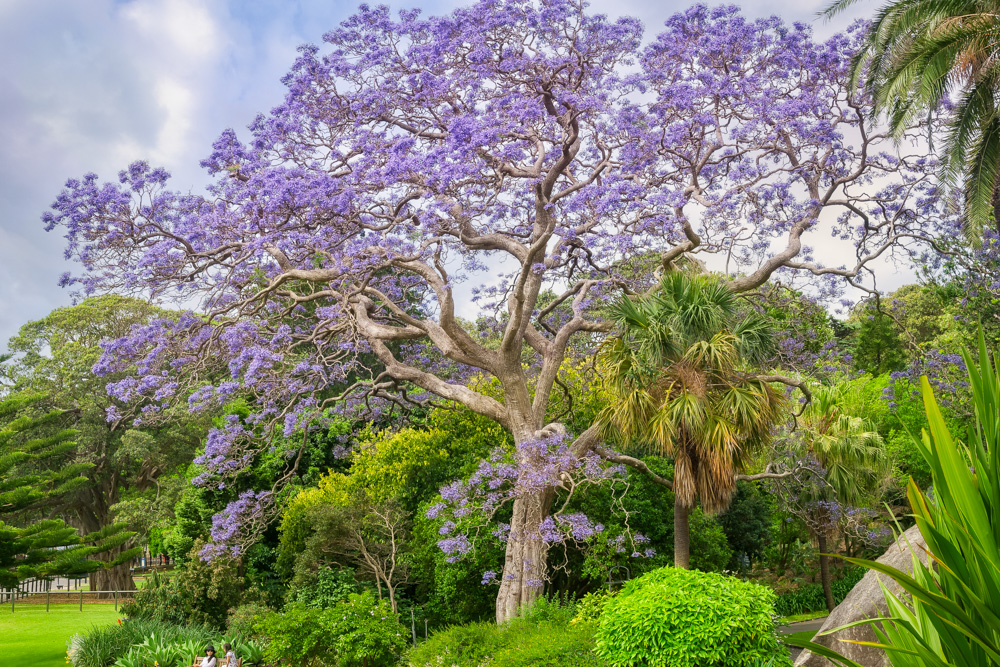 Springtime in Sydney is all about Jacarandas
What could be special about spring, in the country of eternal sunshine and evergreen trees? For me, spring in Sydney is all about Jacarandas: the wonderful purple-blossomed trees that bloom at the beginning of November. You can find them everywhere from the city centre to the suburbs.
I am on a mission now to show you the locations in Sydney that offer the best opportunities to photograph Jacarandas:
Jacaranda Locations in Sydney:
1 Sydney Harbour
East Circular Quay
View of Sydney Harbour from East Circular Quay, with Opera House and Harbour Bridge in the background with purple jacaranda trees in the foreground in spring
2 Royal Botanical Garden
Sydney Cove
View of Opera House from the Royal Botanical Garden in Sydney, Australia in spring, with the purple jacaranda trees in the foreground.
3 Sydney Town Hall
Sydney City
The beautiful sandstone building of Sydney Town Hall in spring with a purple Jacaranda tree in front.
4 Sydney University
Camperdown
Beautiful scene at Sydney University Campus in spring with beautifully lit Jacaranda trees against the traditional sandstone building in the background.
Jacarandas are very much loved in Sydney and are doing so well in the Australian climate that many people think they are native here. However, jacaranda mimosifolia is a sub-tropical tree native to South America. 
Here are a few streets to explore if you happen to visit Sydney at the beginning of November:
Famous Jacaranda Streets in Sydney
Jacaranda Streets
Glenview Street, Paddington
Purple Jacarandas on a purple-pink sunset sky. The leafy street is in harmony with the Paddington Terrace Houses, an Australian adaptation of the Victorian architectural style of the popular London homes.
Jacaranda Streets
Riley Street, Darlinghurst
Street perspective with colourful Jacaranda trees uniting their branches to form a canopy overhead.
Jacaranda Streets
McDougall Street, Kiribilli
Tunnel of Jacaranda trees on McDougall Street, one of the most popular streets in Sydney in spring.
If you would like to hear the interesting story of the fallen, old Jacaranda tree from the Sydney University Quadrangle, very much loved by students and professors alike, check out my blog here. 
Share this article on your social network: